Doc Brown Farm & Distillers is based in Senoia, Georgia.
We're a family-run farm with deep roots here in the state. But that's just a starting point for us. We're proud to be Georgia's only seed-to-still distillery, and we might even be the only distillery in the United States that does everything in the same state.

If you step behind the scenes on our process, you can see how that plays out in practical terms.
Seed to Still
Growing the grain
First of all, we grow all the grain we use to make bourbon here on our farm. Twice a year the soil is tested to make sure we're managing it in a way conducive to growing Jimmy Red Corn. Before planting, we harrow and till the soil so that it's the right consistency, then fertilize it.
We use a corn planter to drop in a seed every inch or so, then wait for green buds to pop up. When the corn is eight inches tall, we cultivate it using the very tractor Amy's Grandfather used on his corn, then add fertilizer and continue doing this process until the corn is too tall for the tractors. The last leg is called 'laying it by' – an old farmers' term meaning that's the last time the corn gets plowed and fertilized.
Jimmy Red Corn grows very slowly and unlike yellow or white corn we only get one crop a year – planted in March and ready in October.
Harvest time
Because of the type of corn and what we want to do with it, we leave the husks in the field to dry on the stalks. The crop needs to come down to 15% moisture. Keeping it in the barn or in a silo would subject it to mold or mildew, and also attract rats. Thank Heaven for the hot Georgia sun!
When it's dry enough, we bring it in. The harvester picks and shucks the corn, removing the kernels and shooting them into our grain wagon. Immediately, we take it to the mill.
Grinding the corn
We have a good old 1901 Meadows Grist Mill right here on the farm. We shovel the corn in by hand and grind it to a consistency in between grits and cornmeal – this is the ideal size for making the mash.
The ground corn is fed into our 50-gallon food grade barrels.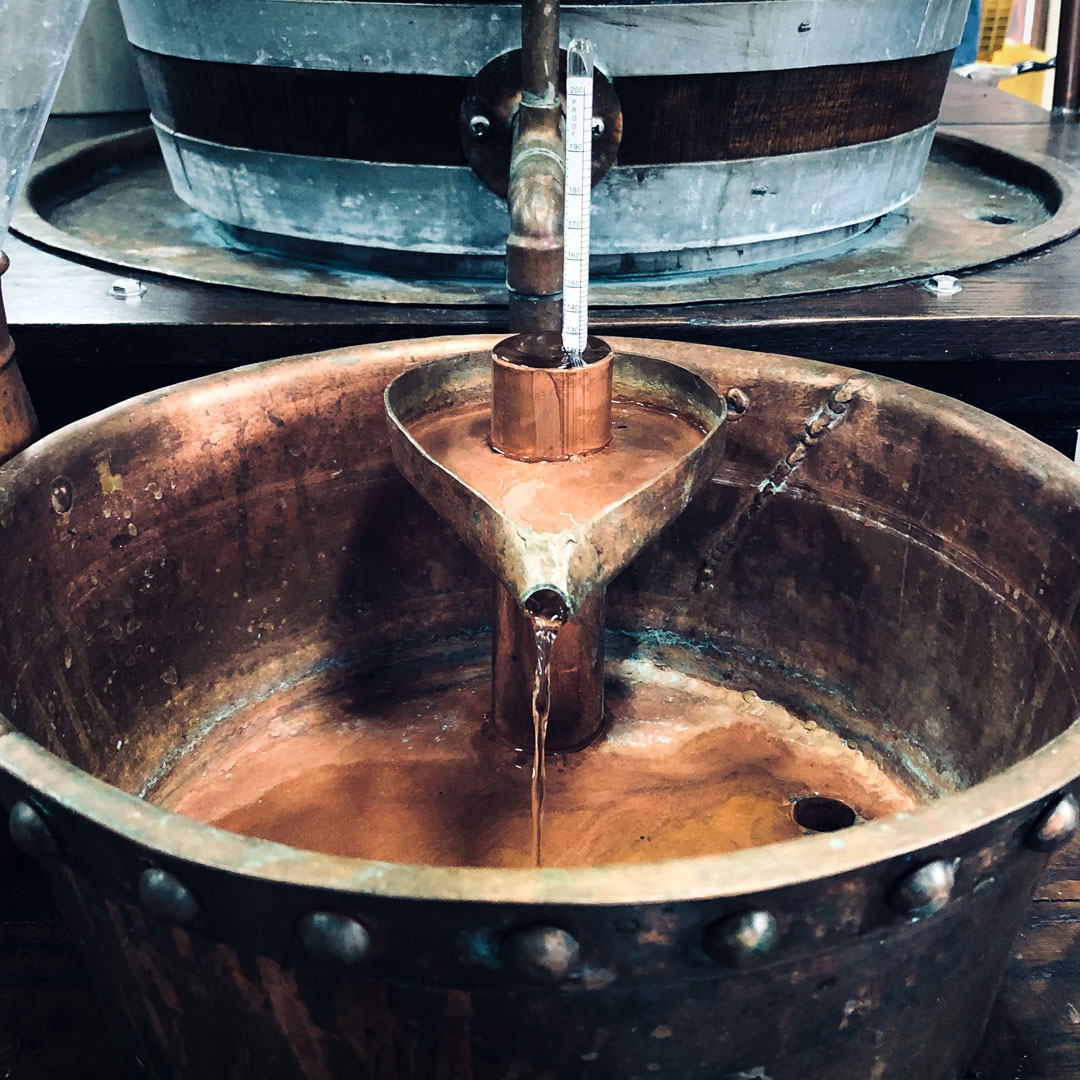 Ferment and distil
If we allow the corn to sit, bacteria could develop, so we take it directly to the Distillery where we work hand in hand with our master distiller.
The corn is turned into a mash, which is allowed to ferment before it is distilled in a hand-made copper still.
We assist throughout this process, from cooking and stirring through to the casking.
Barrel-aged flavor
Our bourbon is aged in charred oak barrels made from Georgia-grown white oak timber here in the state. Once filled, these are stored in a beautiful rickhouse in the Blue Ridge Mountains. Gradually, over two or more years, the liquid interacts with the charred surface and the wood beneath to develop a rich-yet-mellow flavor and beautiful auburn color.
When the bourbon has a full flavor and is deemed ready, we bottle and label it by hand. Each batch and each bottle is numbered so you can enjoy your own, unique taste of Georgia every time.
From seed to still to bottle, everything originates and occurs here in Georgia.
Effie Jewel, Resurrection Red and more will be available to purchase.
Watch this space. In the meantime, sign up for our newsletter and we'll notify you when our liquors are available.
Find out more about our spirits